Wedding services
For ladies who dream of a fairytale wedding; dream no longer! Whatever your fantasy for your special day The Knights of Middle England are here to make those fairytales come true!
Be led to your wedding on a beautiful white charger, have colourful knights and horses for your own impressive Guard of Honour, have knights mingle and entertain your guests or wow your wedding party with a spectacular jousting display as they did in the Days of Old!
Marriage Proposals
Surprise your partner! A different way to propose to your loved one; be her true chivalrous knight in shining armour! Complete in full medieval costume you and your gallant steed can parade to wherever she may be (house, office, gym!) and upon bended knee ask your Lady for her hand in marriage.
Wedding Reception Shows
We offer a range of services from a colourful small parade of knights for a meet and greet to a full 4-6 knight jousting tournament display for your wedding reception!
We can tailor the show to comply with what other activities you have organised for that day and understand the strict timings of such a special day.
For more information please see our Jousting Displays page
Guard of Honour/Parade
A popular choice; 2-4 knights and horses in full armour and costume to parade with you to the church, from the church or just be on hand before and after the service for photos and to mingle and entertain the guests; great whilst the formal photos take place.
Bridal Escort on Horse
The bride and/or groom can ride a beautiful white charger to the church led by a squire - The Bride rides side saddle and the groom astride. A visually stunning way to arrive to, and leave from the church or reception!
Sword Fighting Knights
A great part of your package - have 2 knights in character professionally sword fighting right in front of your guests. As the gallant knights mingle whilst meeting, greeting and entertaining, from no where a challenge is issued and a fight breaks out!
A highly entertaining and very well choreographed routine including stunt falls, clashing of swords and battering of shields.
Archery
This is perfect to entertain young or old at anytime of the day; a great way to fill the often large gaps between ceremonies and receptions, before or after the lunch or dinner or the down time before the start of an evening event.

Targets are put up and guests are encouraged to unleash an array of arrows - the trained archers/instructors are in period dress and will guide children or adults to hit the gold!
Minstrel Band
3 Piece Wandering Minstrel Band in costume, sing, play instruments, teach dances to guests, interact and wander - a true medieval upbeat and entertaining historical musical display that will have even the most unwilling dancer up on their feet!
All packages will vary in cost depending on the range and number of activities chosen and all packages will be tailored to the client's individual needs. Contact us for more information.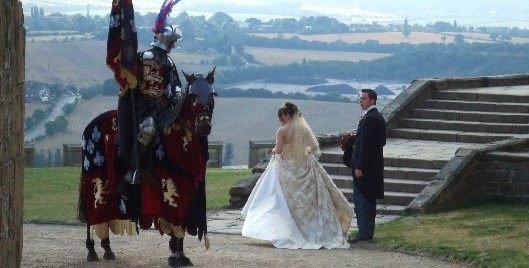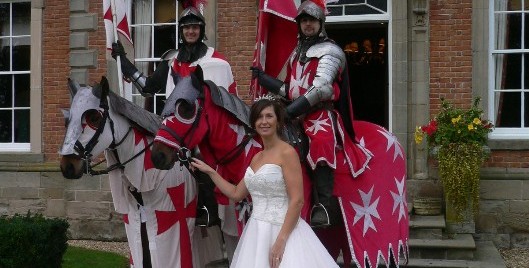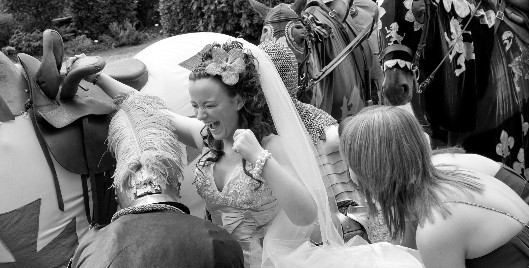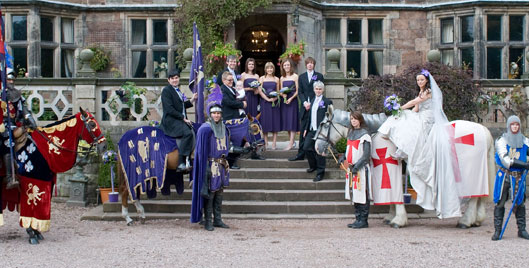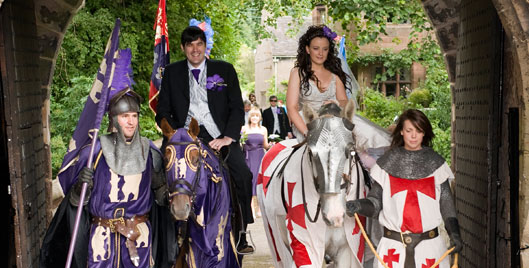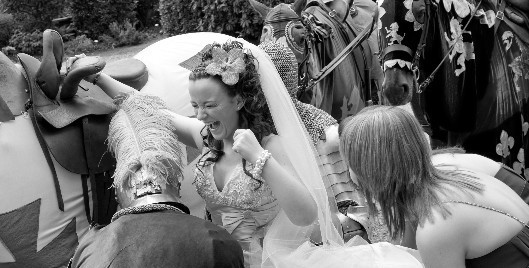 Feedback
"Just a note to say a massive thank you for making my day extra special! You all looked fantastic and put on a great show! Drummer was a star and I felt like royalty all day! Your service has been first class, friendly and easy to deal with. Thank you so much!"
July, 2010
"The horses and costumes looked amazing, you even managed to match the colour theme for the wedding perfectly! i felt very nervous as you can imagine, especially at the thought of riding sidesaddle but the team were brilliant and really added that wow factor to what was a truly special day!"
May, 2012
"I just wanted to say a massive thank you to you and the knights for coming to our wedding. I had no idea that my Mum had booked you, it really made my day. I nearly cried when I saw you all! Dave was really impressed too, and enjoyed his sword fight. Everybody commented on how great and different it was to have you there. Thank you again, you made my hen knight and our wedding really memorable!"
June, 2009