Trick Riding
What is Trick Riding?
The art of performing stunts & gymnastic manoeuvres on the back of a moving horse, Trick Riding is one of the highest adrenaline activities you can do on horseback, but where did it come from?
The Ukrainian Cossacks were the original trick riders who used their skills as a weapon to hide from their enemies during battle. When they were forced out of Russia many travelled to the United States where they used their talents to make money becoming a part of the entertainment community.
Today trick riders around the world perform exciting adrenaline filled displays as part of stunt shows, equestrian theatrical performances & more!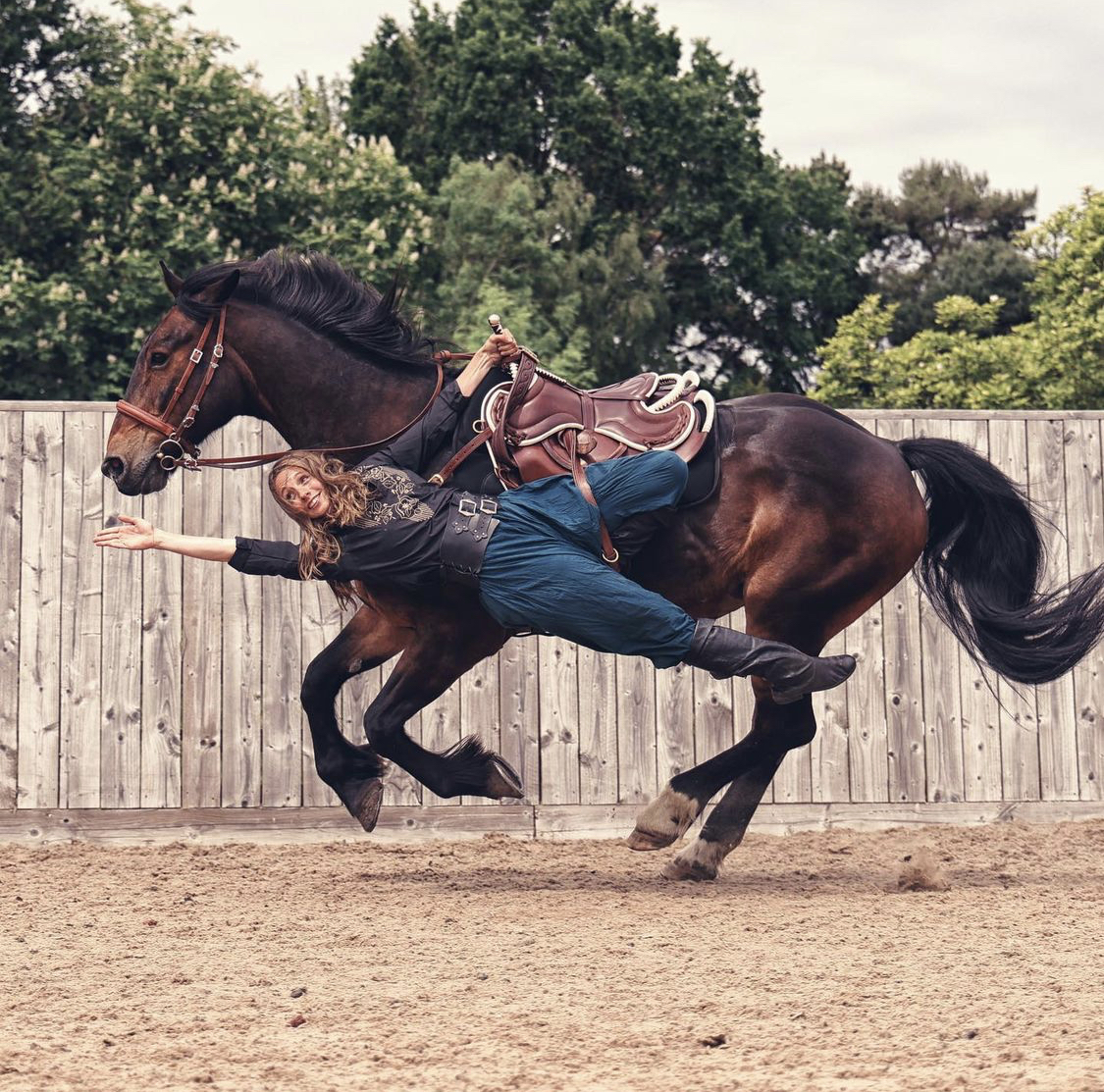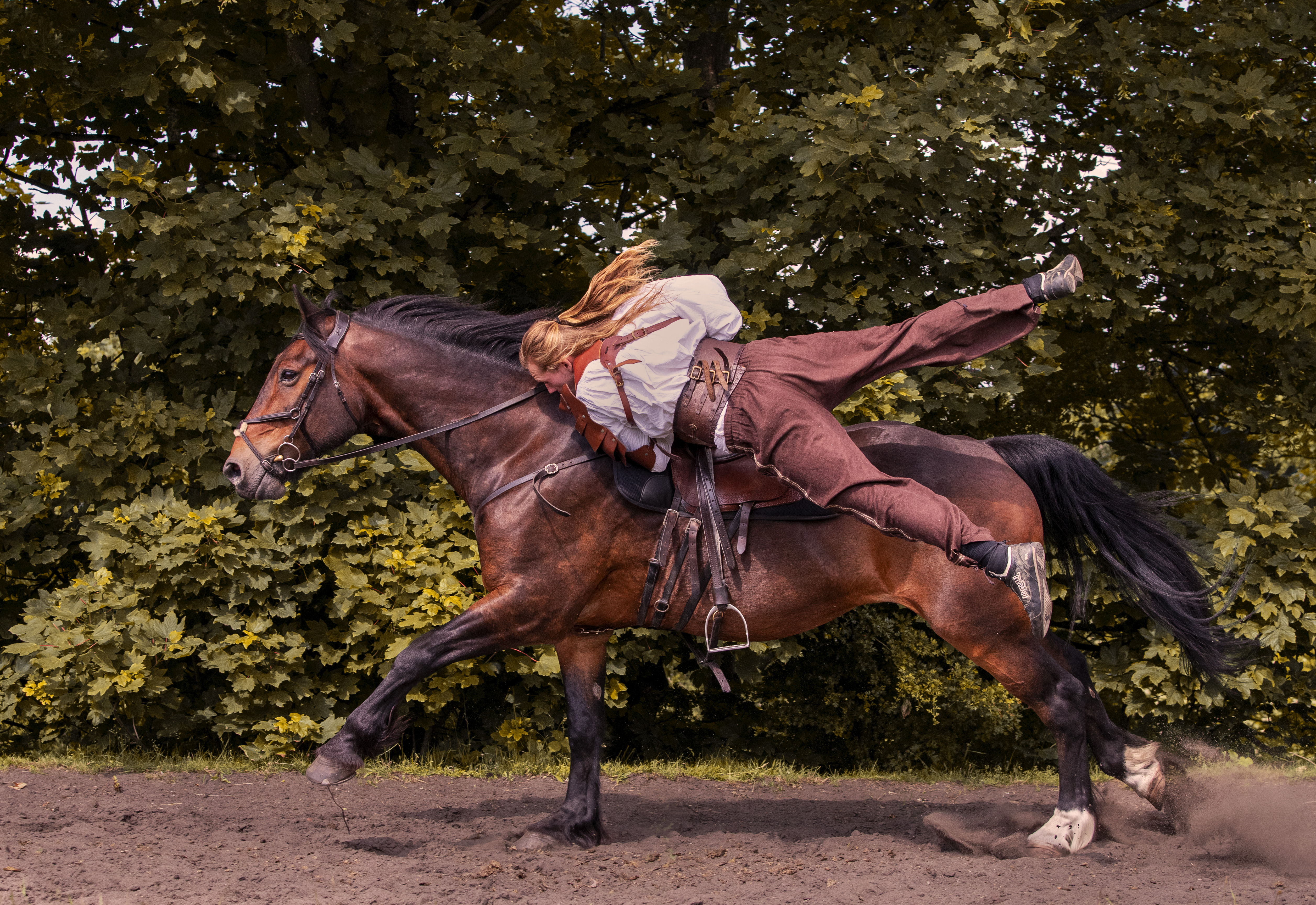 Are Lessons only for People Wanting to be Professionals?
No, absolutely not! Here at The Knights of Middle England our experienced & qualified instructors offer lessons for all levels – from those who want to give this exciting and unique discipline a try just for fun, all the way through to training for trick riders who are working at a professional level in the industry.
Trick Riding lessons also offer a great cross-discipline training opportunity for riders looking to improve their confidence and stability & stickability on the back of a horse!
We offer regular private and semi-private 1 hour sessions as well as clinic days!
What Happens in a Trick Riding Lesson?
Your first trick riding session will start on our barrel – this is a great way to get you introduced to the trick riding saddle, and how to move around on the saddle before we introduce the horse.
Then, once you've got the hang of a few simple moves, it's time to move onto one of our specially trained horses on the lunge and give it a go on the move! Starting in walk and trot we start with simple leg overs getting you moving around the saddle and the horse.
Over a series of lessons you will then progress through the levels of different tricks from wings, hangs, drags and stands, and of course Vaulting!
For those wanting to progress their training even further – once you have learned a series of tricks in canter on the lunge, it's time to progress to trick riding off the lunge in the arena!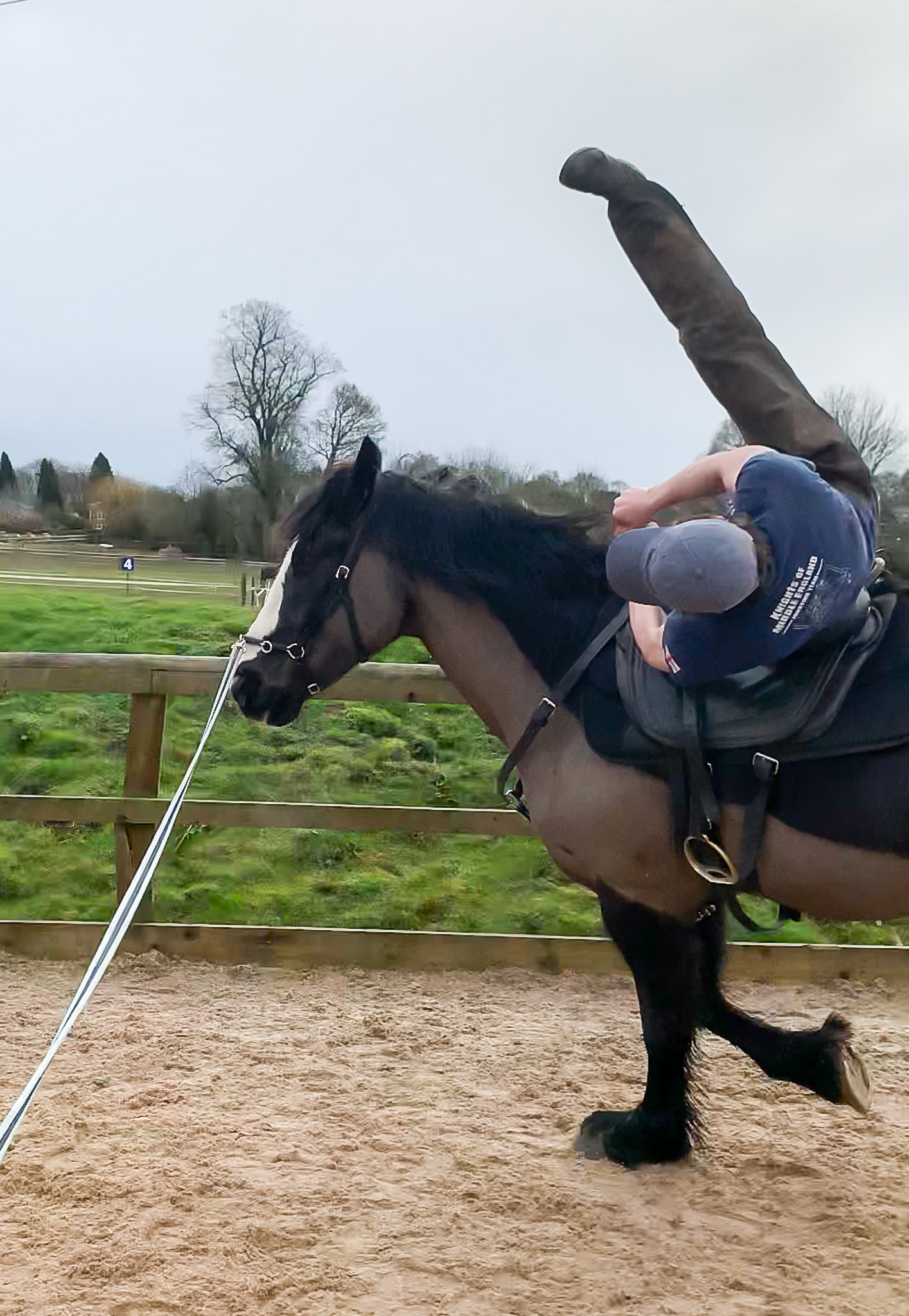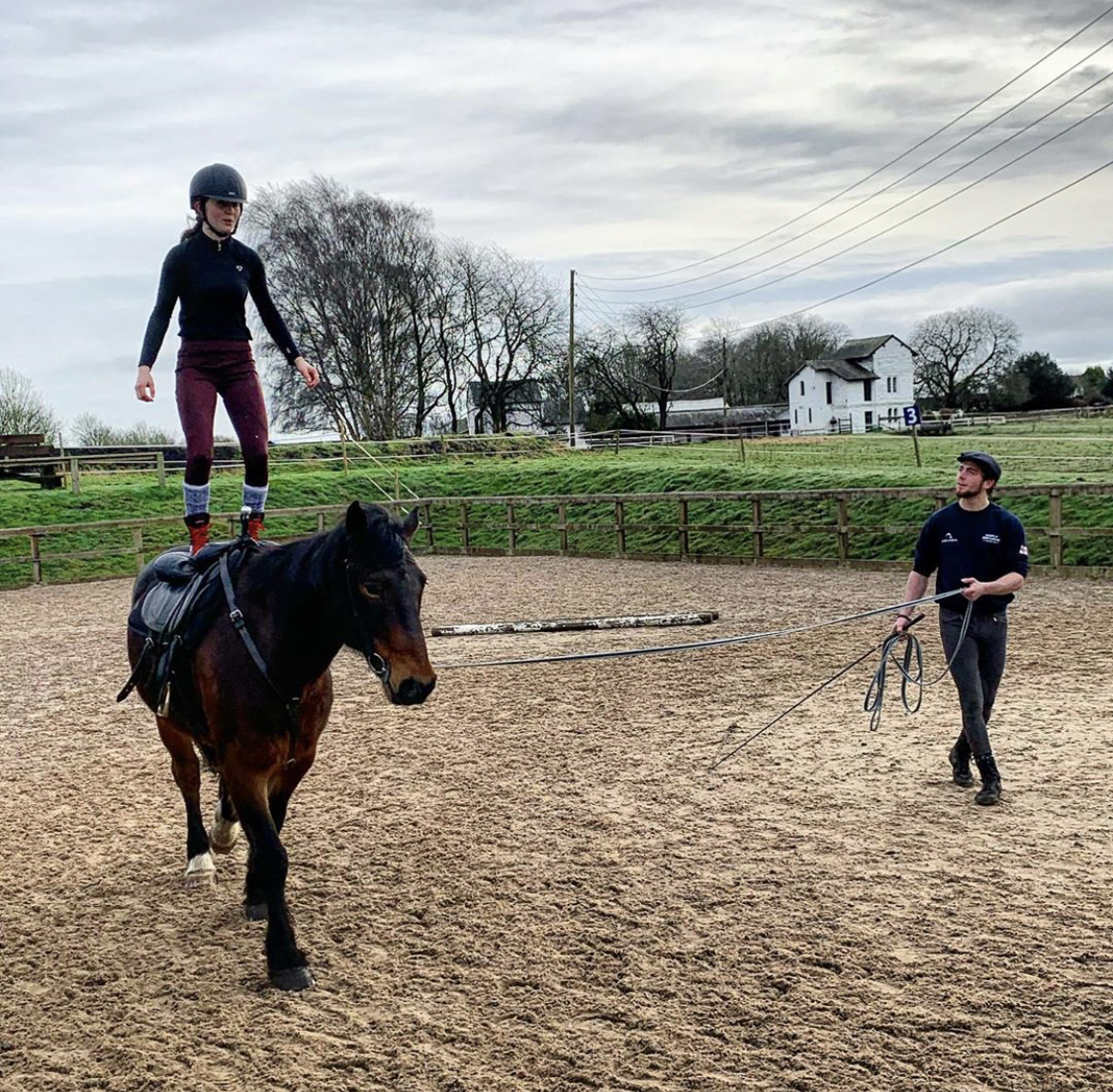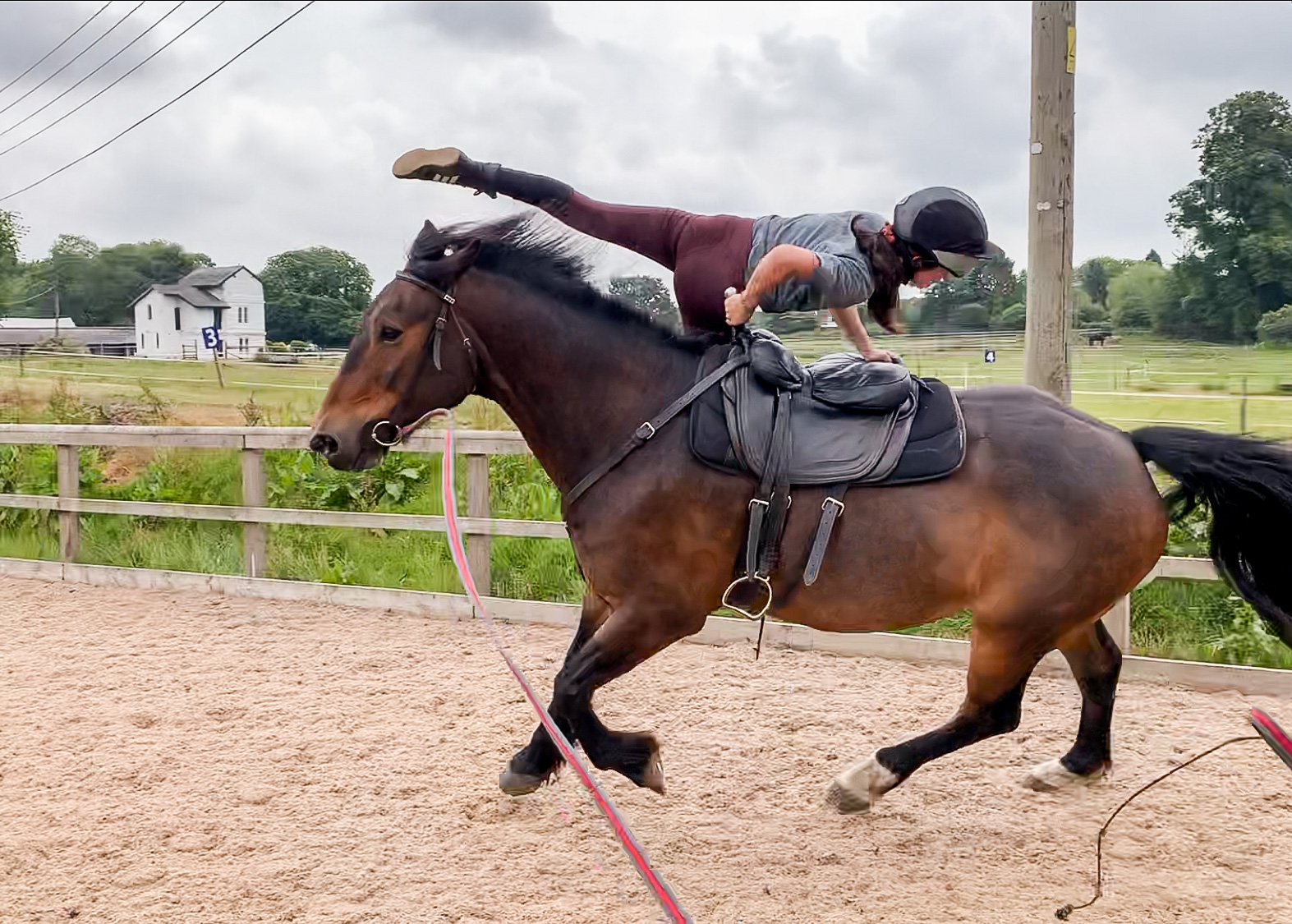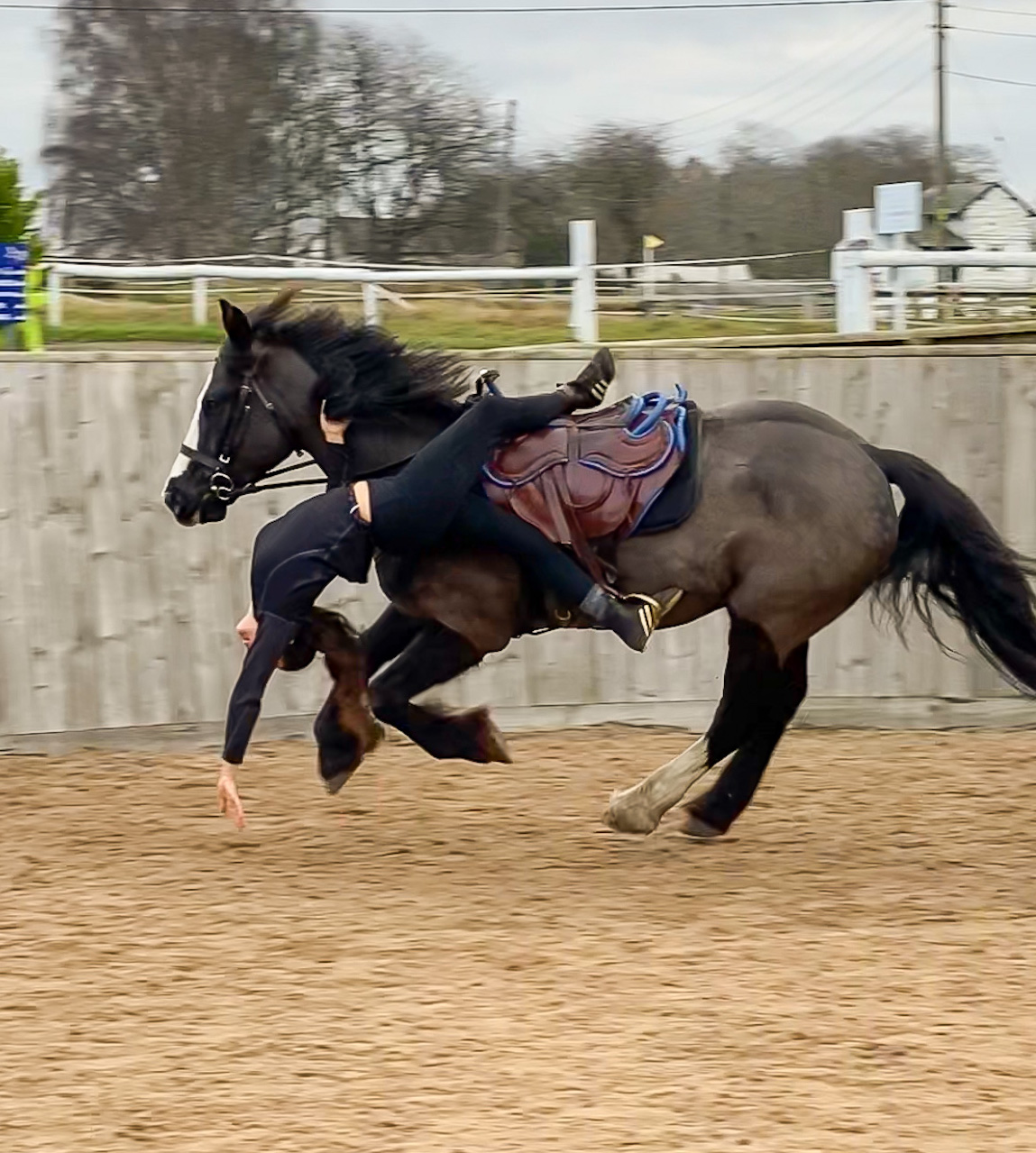 Stunt Riding
Whether a professional looking to train for the BSR horse riding test, an actor looking to increase their castability or if you are just looking for something different to do we also offer stunt riding lessons which include riding with one hand and using equipment such as flag and sword, cavalry riding, roman riding, and more…! Make sure to check out our Stunt and Combat 3 Day Course for intensive tuition!
T&C's Apply. Get in touch for more info or to book in!