Jousting Experience Days
It's time to go back to the Days of Olde and channel your inner Knight as you don your own coat of arms for the day, take up your lance and prepare to charge down the tilt rail like a real-life Lancelot!
This fascinating experience package consists of teaching you the basic jousting skills needed to strike the dreaded "Quintaine" (man shaped target that spins around on impact) and authentic mounted games such as collecting rings off the tilt (wooden fence that divides the two competing knights) with a lance!
Participants will have the chance to dress up in medieval costume and light armour, have their own title and coat of arms for the day and learn a basic choreographed sword fight straight from a film which is performed to the rest of your fellow 'knights-in-training'. You can even try to be Warwickshire's own Robin Hood and unleash your longbow and try to strike the gold!
In the afternoon the stakes are raised as you are split into teams to compete in the 'Grand Gauntlet Challenge'. Earn points for your team as you put into practise the mounted skills that you have learnt.
The day climaxes with the chance to try and unseat the resident Knight in a 'mini joust' to gain your Knighthood!
Everyone is welcome at 'Knight School' to come and experience learning to joust - we aim to make it as fun and enjoyable as possible, even if you have never sat on a horse before! For the more seasoned rider, the experience day will put your riding skills to the test with this unique day.
Click here to book direct today with ourselves and purchase a Knights of Middle England Jousting Experience Day voucher. A perfect gift for that someone who has everything!
Looking to do something different for your birthday? Or just want to have a go at something new with your friends? Why not book a Private Experience for the ultimate birthday party or weekend away! We can do bespoke packages for all disciplines for groups of 6+ people. Get in touch for more information!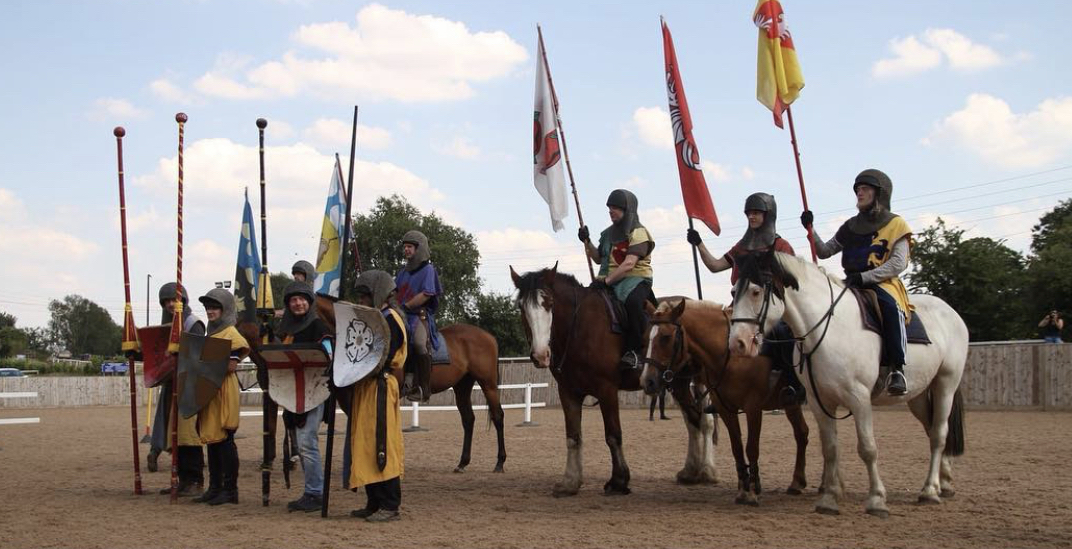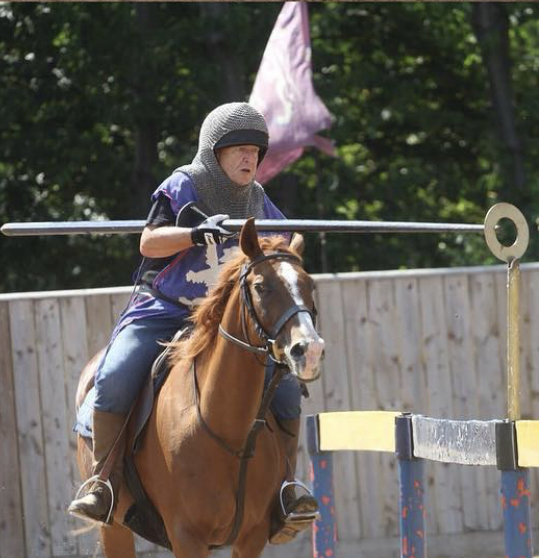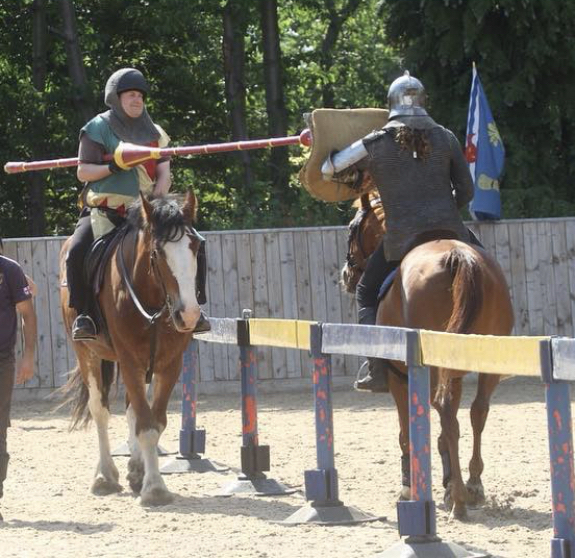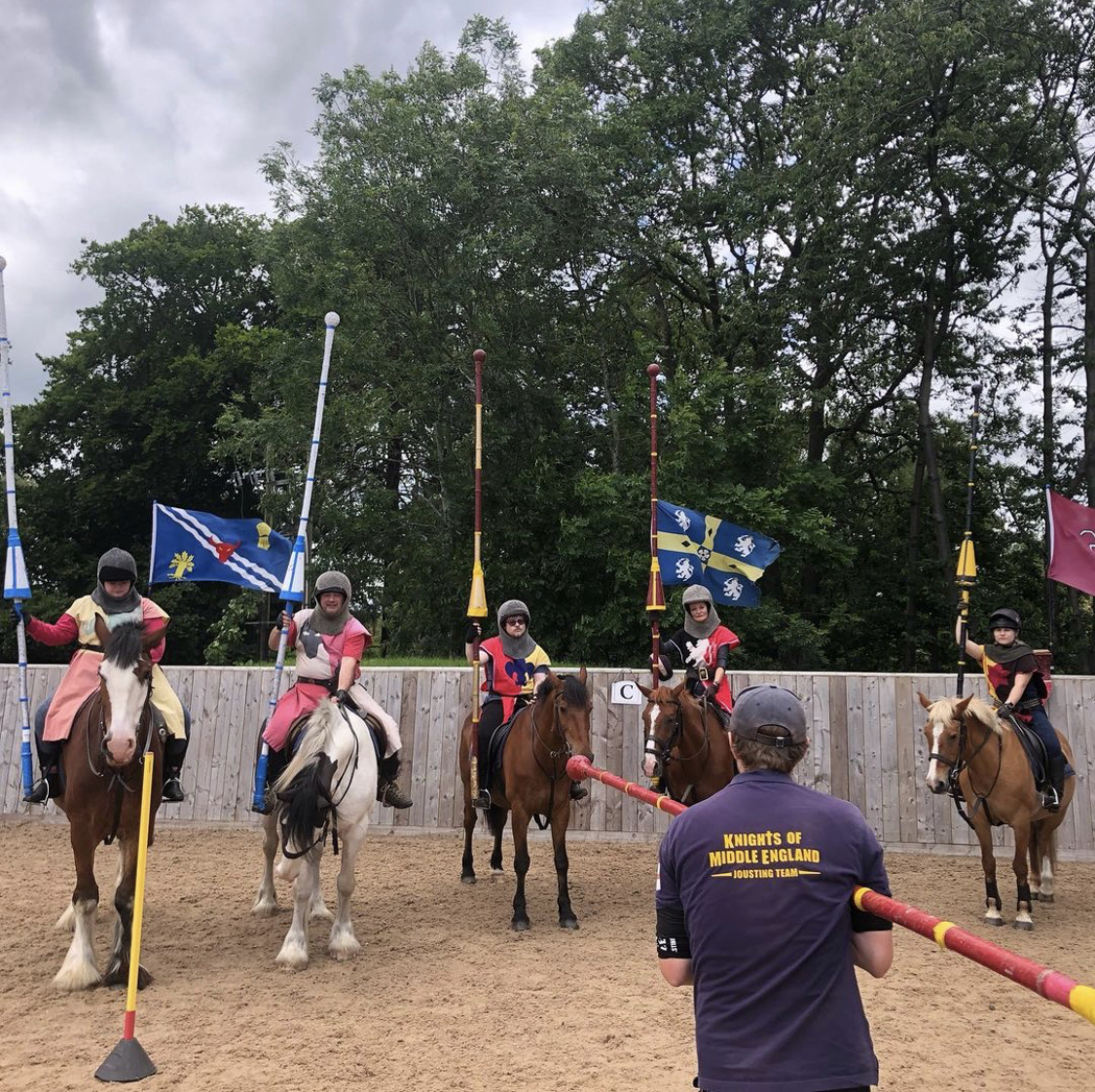 Jousting Lessons
For those who have been on one of our exciting Jousting Experience Days and have caught the jousting bug or those who prefer more focused tuition, we offer regular small group training sessions which concentrate solely on jousting training.
The sessions work on riding for jousting, riding with lance, shield and helm and becoming proficient in all mounted skills with all three pieces of equipment, eventually working up to a full contact joust with an instructor over a series of lessons.
For those who wish to compete in one of our Amateur Jousting Tournaments and join the Amateur Jousting League must work their way through our structured levels to compete:
Half Tilt: focuses on the mounted skills and learning to ride with shield, lance and helm. Work towards becoming proficient in the mounted skills whilst using all three pieces of equipment.
Full Tilt: further develop the skills you have learnt and joust against an instructor learning how to both strike and receive hits upon the shield.
Tournament Level: Competition level. Work on perfecting the skills you have learnt as we prepare you for the tournament field!
Our Annual Amateur Jousting Tournaments are an ideal way for all trainee knights to put their skills to the test safely in a challenging and competitive environment!
PLEASE NOTE - these sessions usually run on weekdays and limited weekends. They are only suitable for riders already competent riding at a canter - please get in touch to check if these sessions would be suitable for you if you are not sure.
T&C's Apply. Get in touch for more info or to book!