New Year News from The Knights!
22-January-2013
22-January-2013 12:35
in News
by The Knights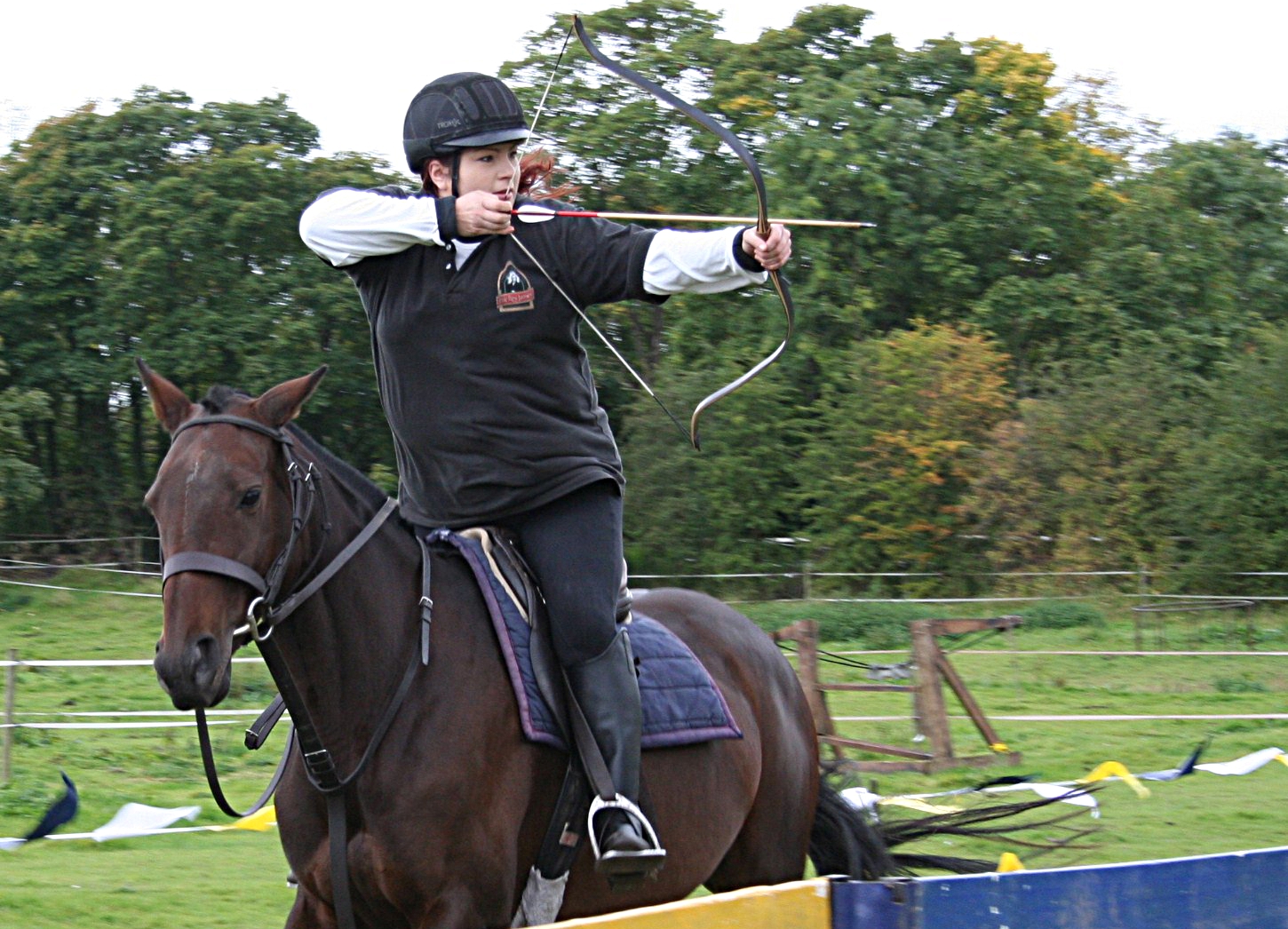 All the team here at The Knights of Middle England wish you a very Happy New Year!
We've all been making our New Year's resolutions here in Warwick, but what about you?! Have you made a New Year's
resolution to get out and exercise more? Well, forget going to the gym - the Knights are here to help with a great fun day out with a difference...
***Specialist Skills Day – 2nd February***

On the back of our very successful Specialist Skills Day in December we are once again giving you the chance to take a break from Jousting and come and try your hand at the other specialist skills that we teach here at the Knights of Middle England. Whether it is your first time or you have been before anyone can come and have a go on our specialist Workshops! The emphasis of these workshops is to have some fun whilst getting to grips with doing something very different on the back of a horse! Tailored to each individual - those who have been before can work on honing those skills, or for those whose first time it is

Morning - Trick Riding - 2½ hours

Come and take part on one of our half day Trick Riding Workshops.
Taught by our fully trained and qualified, equity registered, resident stunt man Emmanuel Lafon.

Within the safety of our enclosed arena with specially trained horses on the lunge you will learn the basics of
classical vaulting techniques performing gymnastic manoeuvres on the back of a moving horse. Then progress on to the authentic Cossack trick riding saddle learning a variety of basic vaults, tricks and stands.

Afternoon - Horse Archery - 2½ hours

For the 'Knights of Old' it was not enough to be skilled in jousting and sword fighting, it was also necessary to master the art of archery on horseback!

Taught by qualified archery instructors, you will first learn to use your longbow from the ground learning to nock and blind nock and master speed loading your arrow. Then mount one of our specially trained horses and practise nocking on the move as you ride down the archery run unleashing your arrows upon the targets.
SPECIAL OFFER – Book onto both the Trick Riding and the Horse Archery sessions to receive a massive £30 off your booking!
Only limited spaces are available so BOOK NOW to avoid disappointment!!
Not able to come on Saturday 2nd February? Don't worry, these workshops will be running on selected dates throughout the year. Look out for more Specialist Skills days coming up soon…!
Visors Down as The Knights Do Battle With A Different Type of Horse Power!
For two of the Knights from the KOME team here in Warwick, Jousting is not the only 'horse-powered' sport that they
battle in. But, rather than the power of their usual 4-legged steed carrying them into the fray, they mount a 2-wheeled KTM motorbike to take on the world of enduro off-road motorcycle sport!
The Knights of Middle England have teamed up with local business Pro Energy Solutions and Paul Ellis-Smith (the original Black Knight!) sponsoring him and Blake Summers (out of the Earl of Warwick Camp!) of local business Alumet. January saw the boys take on one of the hardest races of the UK season - the WOR Event 'The Tough One' - a three hour off-road endurance race over challenging terrain, steep cliff faces, treacherous woodland and giant obstacles such as riding through lorry trailers to jumping over cars in the Nantmawr Quarry in Shropshire. In freezing cold snowy and very muddy conditions, both did very well to even complete the epic marathon race with 'Black Knight' Paul Ellis-Smith just missing out on a podium finish by 10 seconds.
Dates for the Diary…!
It may only be January, but already the Knights calendar is filling up with lots of exciting events for the year ahead…
Once again we seem to be inundated with Stags looking to come and do something unique, exciting and adrenaline filled! With packages ranging from half-day to all inclusive weekends, with a variety of activities including jousting, sword-fighting, longbow archery and trebuchet firing followed with an evening full of hog roast, games and flagons of ale, why would you want to have your Stag (or Hen!) Do somewhere else?!
We also have an exciting line up of Shows for the summer which will see us once again travelling the length and breadth of the Country to entertain the crowds with our action-packed, hard-hitting Jousting Displays with fast horses, bright costumes, exciting stunts and lots of crowd interaction! Look out for new dates as we release them for when we will be at a show near you…!
Back at our base in Warwick we will continue to run our renowned, Unique Medieval Jousting Experience Days throughout the year. Throw down the gauntlet and take up lance and dress in medieval costume and armour as you become a real 21st Century Knight for a day. These days are just the first stage in Jousting training that we offer here at the UK's leading Jousting School for those who really want to get their teeth into this exciting and challenging sport.
Current Experience Day Dates for 2013: (Further dates to be released)
Friday 29th March (Good Friday)
Saturday 28th April
Sunday 19th May (TBC)
For our regular 'Knights-in-Training' and anyone else new to Jousting who wants to take it to the next level, our Amateur Jousting League is starting the new year stronger than ever. Now entering into its third year the date for the next Tournament has been set! To find out more about how to compete in our Amateur Jousting Tournaments Click Here or contact us for more information.
The Spring Amateur Jousting Tournament 2013 will be held on Bank Holiday Monday 6th May. So, mark it in your diaries and start spreading the word to all family and friends. A great day out for all the family - look out for more exciting news about this years Spring Tournament nearer the time… Meanwhile, for those competing - don't forget to keep up your training! For lesson availability get in touch!
For more information about any of our packages and events either visit the website - www.knightsofmiddleengland.com or Contact Us by calling 01926 400401 or emailing info@knightsofmiddleengland.co.uk
Make Sure You Don't Forget Those Dates...
For those of you who have not yet purchased one, Knights of Middle England 2013 Wall Calendars are still on sale - a great way to keep track of all the exciting events that are going on throughout the year. A fantastic A3 Wall Calendar filled with over 30 new, colourful and exciting images - you will never miss a birthday or Jousting Show again! A perfect addition to any family kitchen or office wall!
As well as the new calendars, have you seen local Leamington-based Artist Noreen Mason's beautiful paintings now for sale in The Knights Shop?! A4 Prints of pieces from her 'Distant Voices' collection, inspired by The Knights, are now available to buy. Have a look by clicking here to see her beautiful artwork, as well as all our other KOME merchandise for sale through our online shop.
Have you enjoyed reading this and finding out what the Knights have been up to? If you don't already, why not sign up to recieve our Knights Newletters by signing up on the website homepage. We won't bother you often and will never send you spam! But what we will send you is the occasional newsletter letting you know what's been going on. You will also be the first to hear about any special offers or new experiences we offer!
We look forward to seeing you soon!
~The Knights