Spring Amateur Jousting Tournament - Monday 5th May - All Welcome!
16-April-2014
16-April-2014 13:43
in News
by The Knights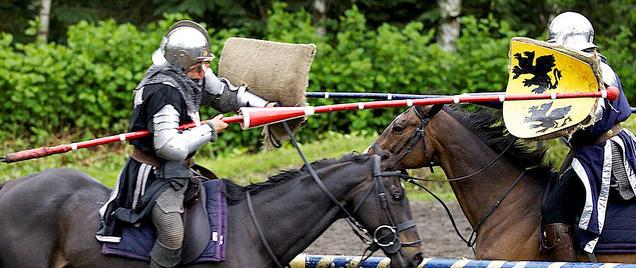 Come along to the Spring Amateur Jousting Tournament and help us bring Jousting alive once more!
As the Spring weather graces us with its presence preperations are well underway for The Knights of Middle England's Spring Amatuer Jousting Tournament 2014 here at Knights HQ in Warwick!
Training sessions have been happening throughout the winter in preperation and now, with less than a month to go, everyone is getting in as many last minute sessions as possible to make sure they are on top form for competition day!
The Knights of Middle England launched The Amateur Jousting League 4 years ago and it is the only one of its kind. We are passionate about bringing the sport of Jousting alive once more and now you can come along and be a part of it!
On Bank Holiday Monday 5th May we will be once again opening our gates inviting all to the Tournament Field to support this most colourful and chivalrous sport as memebers from our Jousting School compete throughout the day in 'Skill At Arms' as well as the final 'Jousting Challenge'. The 'Knights-in-Training' will be battling it out to take home that coveted first prize of the Winner's Shield and for the honour of riding with The Knights of Middle England Team in their exciting, action-packed, high octane Jousting Stunt Display which brings the days festivities to a close.
A great family day out doing something completely different - why not come along and see everything on offer here at The Knights of Middle England and Warwick International School of Riding. For more info on the ongoing Amateur League and Jousting Tournaments please Click Here.
Food and drink is available all day or bring a picnic, as well as Have-a-Go Archery, Falconry and Sword Fighting Workshops. All proceeds from the event are donated to the Warwickshire and Northants Air Ambulance. Tickets available on the gate. (NO DOGS ALLOWED).
Gates open at 11.00am
Adult: £5
Child: £3
Family (2 adults/2kids): £13
under 7s go free
For more details please email info@knightsofmiddleengland.co.uk or call us on 01926 400401