Karl Experiences the True Horrors of Battle...
13-November-2012
13-November-2012 15:46
in News
by The Knights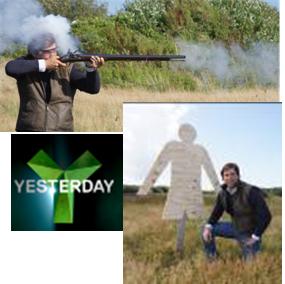 Earlier on in the year we told you about a new documentary series that the Knights have been involved in. Well, here it is! Presented by our very own Karl Ude-Martinez; For those of you who do not know, as well as being the man behind the Knights of Middle England, Karl is also a trained actor and is regularly on our screens as a TV Presenter. One of the episodes even features our own Knight Ed Long and throughout the series resident bowman Kevin Hicks gets involved testing weapons along with Karl - Forget watching 'I'm A Celeb' on Mondays…. INSTRUMETS OF DEATH is on your screens EVERY MONDAY at 9PM on YESTERDAY!
This brand new exclusive 6-part series goes back to a time before precise pin-point weapons, computer guided missiles and drone strikes and looks at the hand-to-hand combat which for centuries saw soldiers standing toe-to-toe with their enemies hacking at each other with hand held weapons until one of them yielded. From Roman times all the way through to WW1 the series takes a hands on approach with war re-enactments, first-hand tests and modern experiments; the viewers will discover the effects of blades, bullets and arrows on the human body and how they would be treated by surgeons on the frontline. Each episode focuses on a different famous battle from history, and investigates why these Instruments of Death were created to inflict the most untreatable, bloody and mortal wounds possible…!
A 'Top Gear' for weapons, Instruments of Death is a fascinating and modern look at the stark realities of battle! The series runs for 6 weeks starting on MONDAY 12th NOVEMBER at 9PM on Yesterday - Sky 537, Virgin Media 203, Freeview 19. So set your Sky+ (series link of course!) and make sure you tune in for the best show on TV this winter!
If you miss it on a Monday then don't worry - there are planty of opportunities to catch it again... It is also on at 10pm on Thursdays and 6pm on Fridays