A Good Friday for Jousting....
13-March-2013
13-March-2013 17:19
in News
by The Knights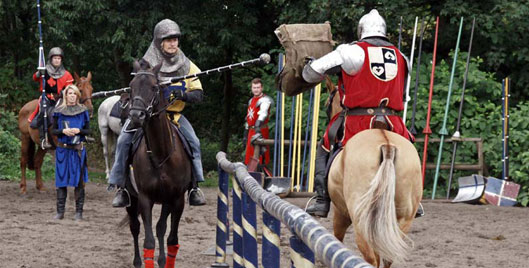 The Knights are looking forward to Easter... No only does it give us all an excuse to eat more chocolate than usual! (not too much, mind, we still need to fit into our armour!) But it also marks the start of our summer show season with the Knights entertaining the crowds at the Kelmarsh Game and Country Fair.
Good Friday is also our first Unique Medieval Jousting Experience Day of the year! Much better for you than chocolate - Why not treat yourself, a friend or loved one to a fun-filled, action packed day where you have the chance to go back in time and become a 'Knight-for-A-Day'!
As a special Easter treat for you all we are offering Vouchers for our Good Friday Experience Day at the massively reduced price of £130 (usually £165 pp).
Only limited places are available so don't miss out and book your place today! Call us on 01926 400401 or Email info@knightsofmiddleengland.co.uk
A Medieval Jousting Experience Day takes you back in time to the 'Days of Olde' when our valiant English Knights were competing in exciting medieval horseback sports to provide some of history's most exhilarating and colourful entertainment in the hopes of winning the total adoration of the crowd.
The Knights of Middle England give the thrilling antics of old England an exciting new twist for the 21st Century. With plenty of team spirit and fun filled activities even those who have never been on a horse before can take on the title of Baron von Buren or the Earl of Warwick for the day and throw down the gauntlet.
Traditionally jousting was only permitted for men to partake in until the late Middle Ages, but fear not, we take lady knights too!!
So come on ladies and throw down the gauntlet and challenge those men!!
This fascinating experience package consists of teaching you the basic jousting skills needed to strike the dreaded "Quintaine" (man shaped target that spins around on impact) and authentic mounted games such as collecting rings off the tilt (wooden fence that divides the two competing knights) with a lance and a pig sticking competition.
Participants will have the chance to dress up in medieval costume and armour, have their own title and coat of arms for the day and learn a basic choreographed sword fight straight from a film which is performed to the rest of your fellow 'knights-in-training'. You can even try to be Warwickshire's own Robin Hood and unleash your longbow and try to split the golden arrow!
In the afternoon the stakes are raised as you are split into teams to compete in the grand 'Gauntlet Challenge'. Earn points for your team as you put into practise the mounted skills that you have learnt.
The day climaxes with the chance to put all the skills you have learnt into use as you try and unseat the resident mischievous Black Knight in a 'mini joust' to gain your Knighthood!
Will you be able to ward of the threats of the querulous Black Knight?