The knights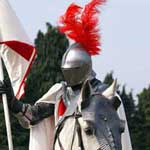 St George
Most famous for his slaying of the Dragon in the Holy Land to save the princess, he epitomises the chivalrous customs that rule this colourful Middle Age. An honourable and pure-hearted knight, mounted upon his faithful white charger St George arbitrates over the Tourney to ensure that the codes of conduct are adhered to and prevent the Black Knight from cheating his way to victory.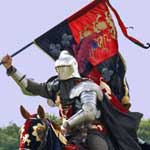 Thomas De Beauchamp - Earl of Warwick
This handsome knight represents the honour and chivalry in this medieval sport. With his clean image and caring reputation he is a favourite amongst the crowds that gather to watch the tournaments. An English Nobleman of an ancient and powerful family, a veteran of the battles of Crecy and Poitiers.

He excels with his horsemanship and executes his combatant skills with calculated precision that instils fear in all that he meets. Agile and accurate his jousting has taken him all over Europe deeming him the winner of many a tournament to prove good will always overcome evil. Packed with a powerful punch, he can end your jousting career with one blow.

You'll like his looks, his charm and charisma, Give him your favour … you know you want to!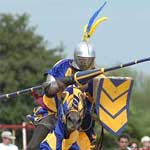 Conrad of Castile
This French knight owns lands in Castile including the Castle of Burgos. A witty and brave knight who has been on the tourney circuits of France for many years and is a skilled and gifted fighter. He accompanies the Earl of Warwick on the Jousting Field to help keep at bay the evil Black Knight and his cheating rabble.
With one of the most dependable horses on the circuit this gallant knight is always there to stand up for those less fortunate by birthright and protect the virtues of young ladies!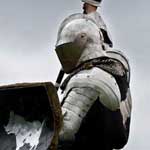 The Black Knight

Travelling the continents during the crusades, his identity unknown, this Chevalier Noir shows no mercy to men, women and children who cross his path. Tales of family executions preceded him, striking fear in his enemies.

The scars of battle have left this knight cold and without heart, his soul is empty and without compassion. Expert in foot fights, especially in the sword, unrivalled in the lancing of the rings. This all-rounder looks death square in the eye and does not take his eyes off his target until the final blow is dealt.
Beware! Opponents rarely live to tell the "Tale"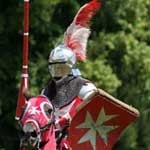 Baron Von Buren

Hailing from Austria and a regular on the tournament circuit where he learnt the art of warfare, he is a turncoat knight who renounced his leader to save his own skin. One of the most agile knights you will ever see; he thinks nothing of hanging off his horse at a full gallop.
With many tricks up his sleeve he will do anything to beat the competition. Though a cheating and dastardly knight, he is impressive in the joust and definitely one to watch out for!!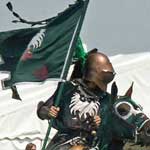 Ashby de la Zouche
Married to the King's daughter, he turned against the King to become leader of the Baron's Revolt. A wily General and a courageous fighter he will stop at nothing to win power for himself. Chosen by the Black Knight owing to his cunning and scheming ways he is a connoisseur of the sword, often luring his opponent off their horse so that he may take them on in a foot fight.