JOUSTING DISPLAYS
We produce a very visual fun-filled action packed show with fast horses and heroic knights performing stunts and hard hitting contact jousting as they gallop towards their opponents to try and unseat them in the jousting arena!
We offer a range of services from a small parade of knights and horses in full armour and colourful costumes or a small 2 knight display, to a complete show of 4, 6 or 8 knights in a full contact jousting tournament show - great for any event.
Our team consists of competing knights from across the lands, each with their own individual character and colours, accompanied with their own squire.
Bold and bright costumes accompanied with stunts such as saddle falls, drags and rearing horses make this a show to remember. No show would be complete without the traditional evil Chevalier Noir (Black Knight) and his trusty squire who will cause havoc within the jousting arena as they try to take on The Earl of Warwick and his knights with any means of cheating necessary in order to win the tournament!
So hold on to your drinks, wives and even children as the Black Knight gallops in!
A Good versus Bad theme shines through the show that will have any audience young and old drawn into our world of circa 1348 cheering on these gallant knights!
Our comic jester can provide entertainment prior, during and after our display. The show can be professionally compèred by a mounted valiant St George, flying the flag for England and fighting to keep the knights following the rules of honour and codes of chivalry from this colourful Middle Age.
We love to involve the crowd in every show we perform by pulling out members of the audience to partake in the show or with a kids "young knight" competition before the show starts for a special prize!
We believe having an engaged audience is a major part of any event's success and so we always ensure the audience feels involved and entertained by what they are watching.
All the team come from either an acting, performing or stunt background and interact from the moment they enter the arena giving an intense and entertaining show.

The ladies and gents in the crowd will have chance to give their "Favours" or any item of clothing, to their favourite knight so that they may ride in their honour for the main Jousting Challenge.
If the knights are knocked from their steeds to the ground the battle continues, with awesome foot fights which incorporate swords, quarter staffs and flaming weapons.
It is a high speed action show topped with a soundtrack of both medieval and modern day music that will quite simply rock you! All our Jousting Shows are able to be tailored to your entertainment needs including the length of the show, names of the knights and the colour and heraldry that they wear. For more information about our Shows please do Contact Us.
The Knights are also able to provide other entertainment services for your event including exciting polo displays. For more information Click Here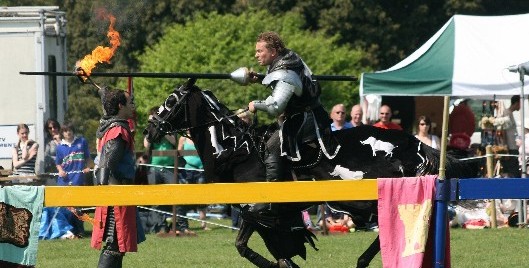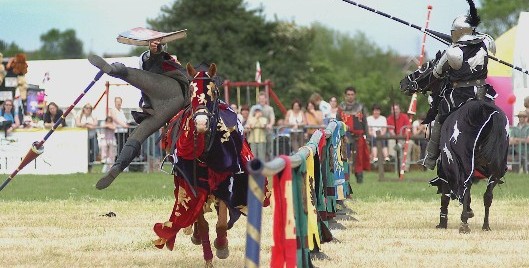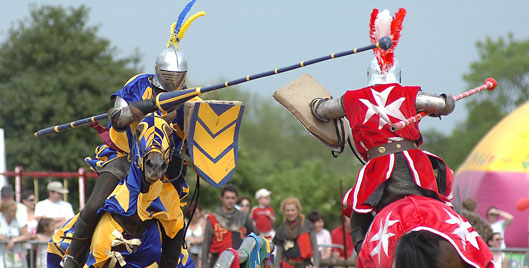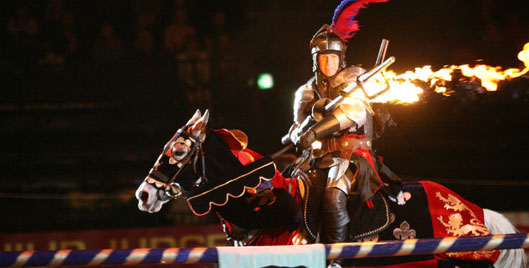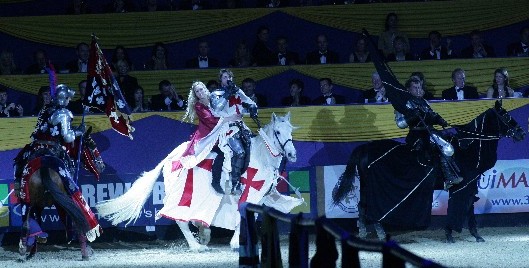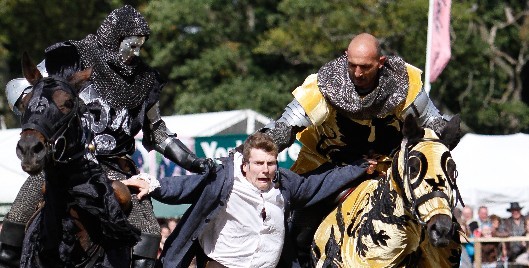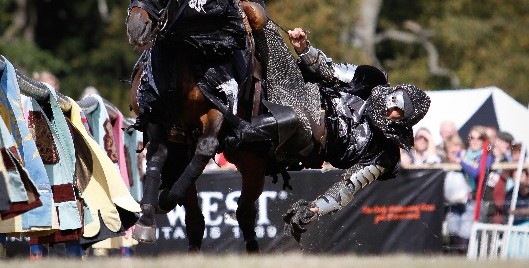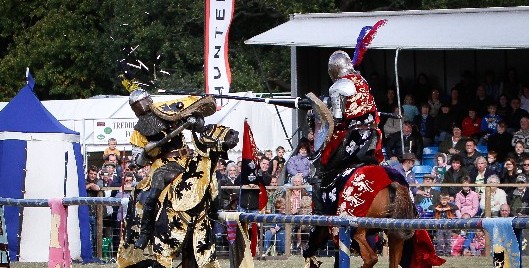 Feedback
"The Knights of Middle England are the leading jousting and stunt team in the UK and tour all across the UK, Ireland and Europe at large venues, shows, castles, game & country fairs and prestigious horse shows, whilst also partaking in filming and television work. They also boast the UK's leading Jousting School where they offer Experience days, Corporate Days and Stag/Hen packages."
The Independent, 2009
"At the 2010 Horse of the Year Show, the Knights of Middle England proved they really do have the H Factor! The Knights really know how to get the crowd going and are perfect equestrian entertainment for all the family"
Helena Petit - Grandstand Event Management – The Horse of the Year Show – NEC Birmingham